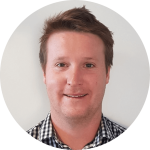 Tom Green joined Online in November 2009 as a Trainee Site Manager. He came to us fresh from University, graduating with a Bachelor of Commerce, Endorsement in Operations Management. Tom's first placement was at Jipcho Road, Christchurch where he spent 3 months as a storeman under the supervision of an experienced site manager.
He then moved to the Byron Street Warehouse, where he continued his training in all aspects of warehousing and distribution and joined our Site Manager Training Programme. Four months later, he took the reins of Byron Street as Site Manager, quickly earning the respect of his clients and staff. While he was managing Byron Street, he became a Mentor for a new Trainee Site Manager and was also involved in operational projects such as assisting client moves to other sites.
Post-Earthquake, Online continued to grow and another opportunity soon arose. Tom's "can do attitude" and work ethic made him the ideal candidate to move up the ladder, and in November 2011 he took charge of our second largest site at Port Hills Road. In 2014 he was promoted to run the largest site in Christchurch, before moving into a Divisional Support role in 2015. Tom is now an Operations Manager in our Southern Region where he oversees the running of five warehouses.
What did you know about Online before you joined?
Very little in fact. I was aware of some distribution companies but not Online. I learnt a lot from our website before my job interview.
How has Online supported your career?
Really well, I have always had consistent help from previous mentors who have supported my career development. I can also contact Head Office Management whenever I need to, and this has been influential in my training as I have been easily able to ask questions about the business and industry.
What has been your biggest achievement working for Online to date?
Definitely taking on the challenge of running our Port Hills Road 1 Site. This was a massive step up for me and a great learning curve, dealing with a large number of clients and leading a large group of staff.
What do you enjoy most about working for Online?
The variety of work I do daily. I turn up for work and always get to do something interesting and challenging. Also I work with a great group of people company-wide.