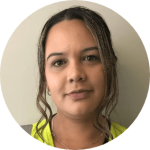 Jasmin Mita joined Online as a casual storeperson in our Auckland branch in March 2008. During her casual employment, Jasmin learnt to pick and pack for a wide range of clients and began to develop her administration skills, which enabled her to be flexible in moving around the sites where needed.
In 2009 an administration role opened up and Jasmin was quickly promoted to this position. In this role, she was responsible for invoicing, order pool management, posting orders, customer service and stock control. During this time our Auckland Branch was growing steadily and a change in site management created another opportunity. With her considerable knowledge of Online's clients and processes she was ready to move into a 2IC role in February 2011.
By June 2011, Jasmin was offered the opportunity to become Trainee Site Manager for Auckland's newly-established Freight Place 2 warehouse. She completed her Trainee Programme while working full time in a very busy site, and in November 2011 she was officially recognised as the Site Manager of Freight Place 2. This was a great achievement for Jasmin and demonstrates the value of spending time learning the business from the floor upwards.  After 18 months running Freight Place 2, Jasmin requested a transfer to Christchurch to be closer to her family. She moved to Christchurch to run our second largest site at Port Hills Road, and has since taken up the role of Site Manager at our largest Christchurch site – Port Hills 1.
Alongside her daily responsibilities, she is now using her considerable skills to mentor and support our new Trainee Site Managers.
What did you know about Online before you joined?
A bit, I had been around Online since I was 7 years old and had worked for Online Christchurch in the school holidays when I was 14, completing data entry. I also had other family members who worked for Online.
How has Online supported your career?
Online created the opportunities for me to get to where I am today – without these I would not be a site manager.
What has been your biggest achievement working for Online to date?
Becoming a site manager, which was never in my original plans. I did not think when I started with Online Auckland that I would one day become a site manager!
What do you enjoy most about working for Online?
Definitely the people, I have a great team behind me which creates a great working environment.