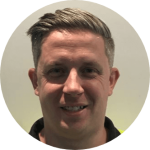 Lance first came to Online in 2006, working as a temporary storeperson (with no warehouse experience) for six months before being employed by Online in a permanent role.
Over the next few years he learned all the various elements of storeperson work, including picking, packing, dispatching, freight and stock control, and worked with many different clients, in several different warehouses. He also obtained various licences such as MPI Accredited Person, MPI Approved Operator and OSH and honed his forklift operating skills.
Lance's high attention to detail, knowledge of our clients and passion for warehousing made him an ideal candidate for leadership development, and he joined our Trainee Site Manager Programme in 2011.  At the same time he was promoted to 2IC of our Port Hills 2 warehouse in Christchurch, and then 2IC at Port Hills 1 (our largest site) before moving to Site Manager for our Jipcho Road site in 2015. Lance managed one of our new Kennaway Rd sites for 2 years and is now working for our regional office in a Client Implementation role.  
What did you know about Online before you joined?
Nothing – I knew very little of the warehousing and distribution business. The only reason I gave it a go was because I was looking for work and had my forklift licence. A temping agency pointed me in Online's direction.
How has Online supported your career?
By providing me with training and the opportunity to further my career within the company.
What has been your biggest achievement working for Online to date?
My current role as a Site Manager.
What do you enjoy most about working for Online?
Each day is different. A variety of work, which makes for an interesting job.