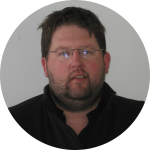 Jason Reid came to Online in April 2004 with a Bachelor of Business Studies majoring in Sports Business Management. He started his logistics career as a casual storeman in a large warehouse, focusing on a major client. During this time he gained experience in order dispatching, inwards goods and returns and obtained various licences such as MPI Accredited Person and MPI Approved Operator. After a year in the role Jason decided to take a career break, to travel and work overseas.
On his return to New Zealand in 2006 he was welcomed back to Online, joining one of our smaller sites as a Trainee learning how to run the warehouse. He was promoted to Site Manager a few months later and over the next few years, Jason managed a variety of warehouses, with each site providing an opportunity to gain more experience: liaising with a variety of clients in larger warehouses, management of inventory control and freight, working with critical KPI's and client invoicing, dealing with more complex issues and increased staff levels.
Jason moved to Head Office in June 2010 and he has held a variety of positions since then including a nationwide freight management role, before moving to our Southern Regional Office team where he focused on training and compliance while also co-ordinating our Health and Safety programme.
Jason has recently re-joined our Central Office team and has taken on the newly-established Quality, Compliance and H&S Manager role.
What did you know about Online before you joined?
Not much! A friend of mine worked for them and had told me it was the best company he had ever worked for, which is one thing I have never forgotten.
How has Online supported your career?
Through consistently challenging me and offering me opportunities as I progressed through the company. I have always had the belief that you can go as far with Online as you want it to take you.
What has been your biggest achievement working for Online to date?
Getting to where I am now. I thought being a Site Manager might have been my ceiling, so I see any progression from there as a bonus.
What do you enjoy most about working for Online?
Being able to liaise with a lot of very friendly and easy-going people.